See the full presentation in PDF
WTI Eras and Crises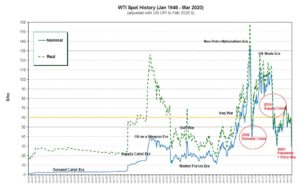 2008 Demand Crisis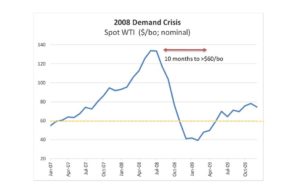 2004 Supply Crisis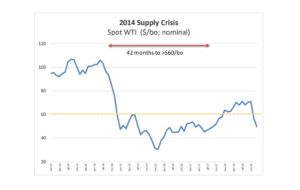 This is not our first Rodeo
Since 2002, excess supply has become the norm, causing high Oil Price volatility (acute reverse elasticity to Supply-Demand imbalances).
2008 Demand Crisis:
2007-08 global banking crisis created credit contraction, slowed-down economic growth, rose unemployment, dropped consumer demand. Largest Recession since Great Depression.
Oil dropped rapidly from $147 to $32/bo and Gas from $14 to $4/MMbtu.
Excess Supply was 2%, 1.9 MMbo/d.
Oil Price took 10 months to breach $60/bo again.
2014 Supply Crisis
NorAm shales disruption and ingenious efficiencies, eventually hurling US to top world producer.
OPEC with low specific weigh; Saudi relinquished the swing producer wheel to US; Russia under tentative cooperation.
Economic growth slowed in China, Russia, India and Brazil.
Peak Demand expectations due to societal pressures.
Oil dropped slowly from $106 to $30/bo.
Excess Supply was 3%, 2.7 MMbo/d.
Oil Price took 42 months to breach $60/bo again.
This time, low Oil Prices could be with us for quite long…
Will $45/bo be the new steady-state equilibrium?
2020 Perfect Storm: Covid-19 pandemic + Russia-Saudi price war:
Pandemic shutting-down economies, combined with crude oversupply.
Oil dropped rapidly from $60 to $25/bo.
IHS Markit and Standard Chartered assessed demand to drop by 10 MMbo/d in April.
According to IHS Markit, 2020 Demand will drop by 4.5%; EIA says 4%.
Traders are much more bearish. Demand could drop as far as 35%, pointing at a major Recession, or even a Depression.
After much posturing, finally, a Supply-side Agreement
With US and G20 pressure, agreement to curtail Supply by 9.7 MMbo/d (10%), the largest ever voluntary output cut. It will scale down along two years.
Will it suffice?
Will the agreement hold? Will Iraq, Mexico rebel? Will Saudi and Russia continue to underwrite the highest marginal cost producer (USA)?
WoodMac forecasts $36/bo for 2020 and $46/bo for 2021 with recovering Demand.
For what they are worth as predictors, Futures today indicate ~$36/bo by 12/20, $39 by 12/21, $41/bo by 12/22, $43/bo by 12/23 and $44 by 12/24.